coconut flake – 5 1/2 cups
sweetened condensed milk -1 (14 oz)
vanilla extract -2 tsp
almond extract – 1 1/2 tsp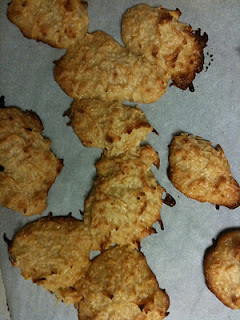 1. Preheat oven to 350 degrees F (180 degrees C).
2. In large mixing bowl, combine coconut, sweetened condensed milk and extracts; mix well.
3. Refrigerate the mixture for about a half an hour.
4. Drop by rounded teaspoonfuls onto parchment paper and greased it(or greased baking sheets).
5. Bake 15 to 20 minutes or until lightly browned around the edges.
6. Immediately remove from baking sheets. Store loosely covered at room temperature.
for recipes in simple cooking steps with youtube lesson
very shortly…wait for it