Ingredients  
Gram flour (besan) – 3 cups
sugar – 4 1/2  cup
sliced cashew – little
cardamom(ilaichi) powder – 1 tsp
raisins – little
ice candy( karkandu) – little
Boondi Skimmer or Ladle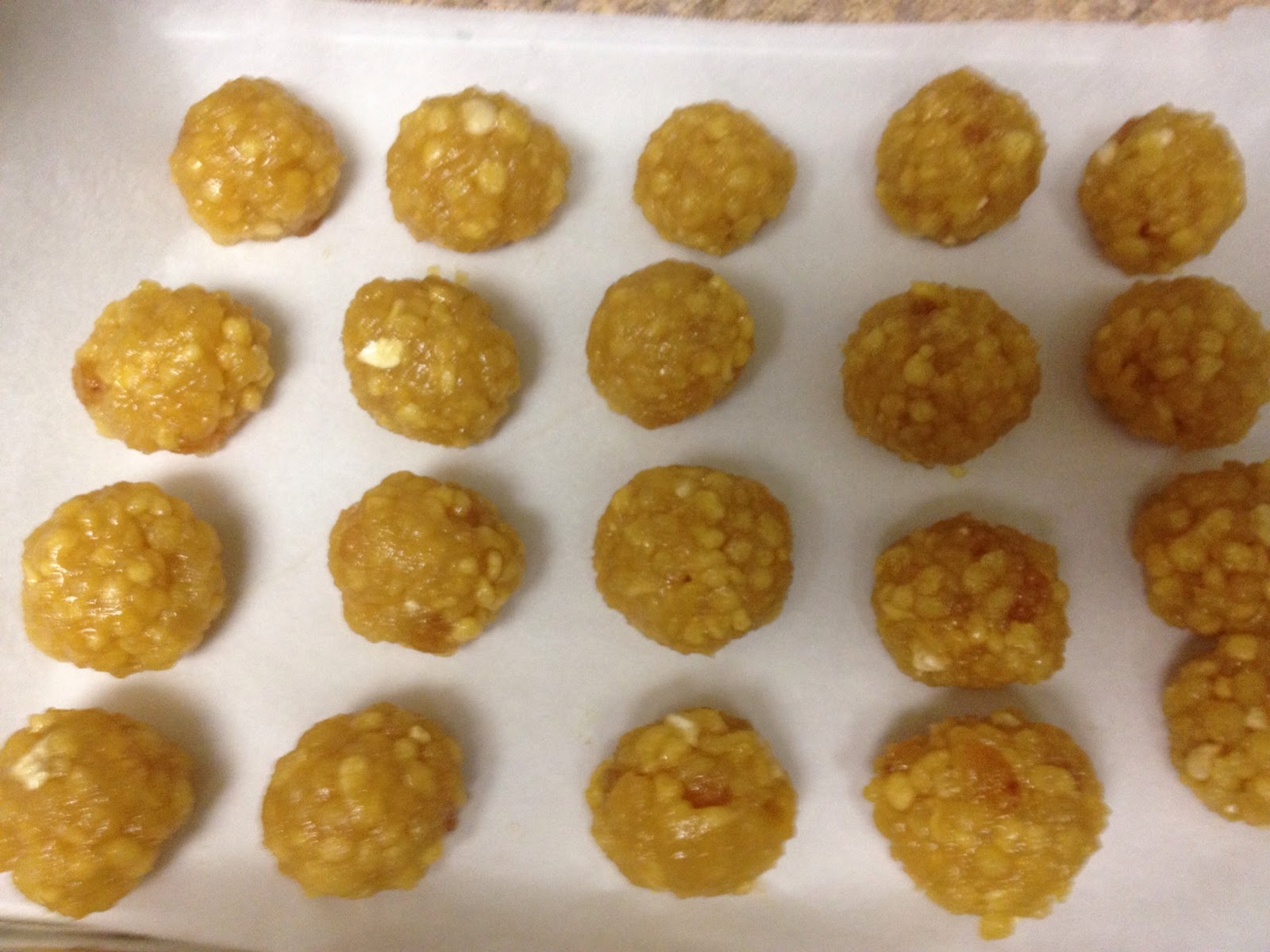 Sugar Syrup(Jeera):
Heat the sugar(4.5 cup) in 2½ cup water till reaches a ball consistency(1 sting).
Boondi:
Mix the besan flour with water(2 to 2.5 cup) to make a smooth pancake-like batter or slightly thicker than dosa batter.

Heat the oil in a frying pan on medium high heat. 

Hold the skimmer about 1 to 1 1/2 inches above the oil over the center of the frying pan with one hand. With your other hand pour some of the batter onto the skimmer to cover all of the holes without spilling over the edge of the skimmer.

The batter will start dropping through the holes into the oil. 

Fry them until the sound of sizzling stops and boondis are light gold in color but not crispy! 

Lift the boondi out of the oil and put them directly into the warm syrup and mix.

When finished frying the boondi, let them soak in the syrup for 15 minutes.

If the boondis are still hot, let them sit only until they are warm enough to handle – don't let them to cool off. 

Add the cashews, raisins,karkandu & cardamom powder to the mix.

To make the ladoos, scoop up some of the boondi mixture into your palm with a spoon. Gently squeeze the mixture between both palms to shape into a round ball about the size of a golf ball.
As the Ladoo's cool to room temperature they will become firm but they should still be moist. Ladoo's will keep at room temperature in a covered container.


for recipes in simple cooking steps with youtube lesson