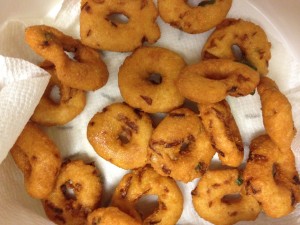 Medu Vada Mix in 7.05oz pack. Vada as it is called is a typical South Indian dish. It is made from black gram dal which is a lentil. A vada is typically shaped like a doughnut. Vada goes well with coconut chutney and sambhar.Use Gits Instant Medu Vada Mix to make vadas that are just right: crisp and golden on the outside, soft and delicious on the inside. Suitable for vegetarians. Delicious recipe is provided on the back of the package.
INGREDIENTS:
Gits Instant Medu Vadai Mix in 7.05oz pack
Chopped green chillies – 3
Chopped onions – 1/2
Chopped curry leaves – 8
Method :
Take the instant mix in the bowl and add chopped onions, green chillies and curry leaves to it.
Add 100 ml of water into the mix to make a thick batter and keep aside for 15 min.
 Heat oil in a pan and shape the vada's like doughnuts. You can use your wet palms, to do this without the batter sticking to it.

 Fry till golden brown, adjusting the heat when the oil gets too hot. Make sure the heat is not too much because that will burn the outside while the inside is still under cooked.

 Dump into a kitchen napkin to drain excess oil.
Best enjoyed with tea, coconut chutney and sambhar.
for recipes in simple cooking steps with youtube lesson